In this article:
Hiroshima Prefecture is opposite Shikoku on the south side of Honshu between Yamaguchi Prefecture and Okayama Prefecture. Its capital,
Hiroshima City
, is the largest city in western Honshu. Much of the coastal economy is tied to shipbuilding and fishing.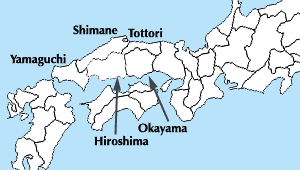 Tottori Prefecture is on the north side of Honshu between Shimane Prefecture and Hyogo Prefecture. Tottori has the lowest population of all prefectures in Japan. It is close to being the smallest as well.
The Legend of Peach Boy or Momotarou was born in Okayama Prefecture which is famous for its peaches.
Kurashiki City
is a popular tourist destination with its famous canal district.
Yamaguchi is the western most prefecture on Honshu, the main island of Japan. It has a number of scenic locations including Iwakuni City's Kintaikyo Bridge and
Akiyoshi Cave
.
Located on the north side of Honshu and west of Tottori Prefecture, Shimane is one of the least densely populated prefectures in Japan. There are plenty of unspoiled locations to look at around the prefecture.
About This Website
On August 18th, 2003 I left my home in Duncan, BC, Canada on my way to teach English in Kawajiri-cho, Japan as part of the JET Programme. The JET Programme places mostly English speaking young professionals (university degree required) in Japanese schools and communities to help internationalize Japan and teach "native" English.
I sincerely hope that this website is useful and interesting!
-- Matthew Bystedt
JET Programme
Tokyo-to
Tokyo is the capital of Japan and part of the world's most populous metropolitan area.
Kagoshima Prefecture
Amami-Oshima is the third largest (715 sq. km) of all offshore islands in Japan and is a tropical island gem that is often overlooked by tourists.
Miyazu City, Kyoto Prefecture
Amanohashidate is one of the three most scenic places in Japan. Best viewed with screen turned upside down.
Yamaguchi Prefecture
Mitaka City, Tokyo
This one of a kind museum is a showcase of Studio Ghibli's art and design.
Himeji City, Hyogo Prefecture
The white walls and tile roofs of this castle forms a unified combination of art and overwhelming defensive power.
Hyogo Prefecture
Kobe City's place in modern history was established in 1868 when it was one of the first cities in Japan to be opened for foreign trade and residence.
Osaka City
USJ is the largest and best theme park in western Japan. Come see all of Universal Studios' famous characters.
Kanagawa Prefecture
Yokohama City, the second largest city in Japan, is located 30 km south of Tokyo along the western side of Tokyo Bay.
Submitted by mbystedt on Fri, 04/08/2011 - 23:45