Hiroshima Castle is cherished as a symbol of the city and as the source of their baseball team's name. What remains today is a concrete reproduction of the inner main keep, walls and the innermost moat. The keep houses a small museum with artifacts from Hiroshima's past. The grounds contain one of Hiroshima's best cherry blossom viewing area.
It is located a walkable distance north of the Peace Memorial Park and close to the Shukkeien Gardens.
Full Screen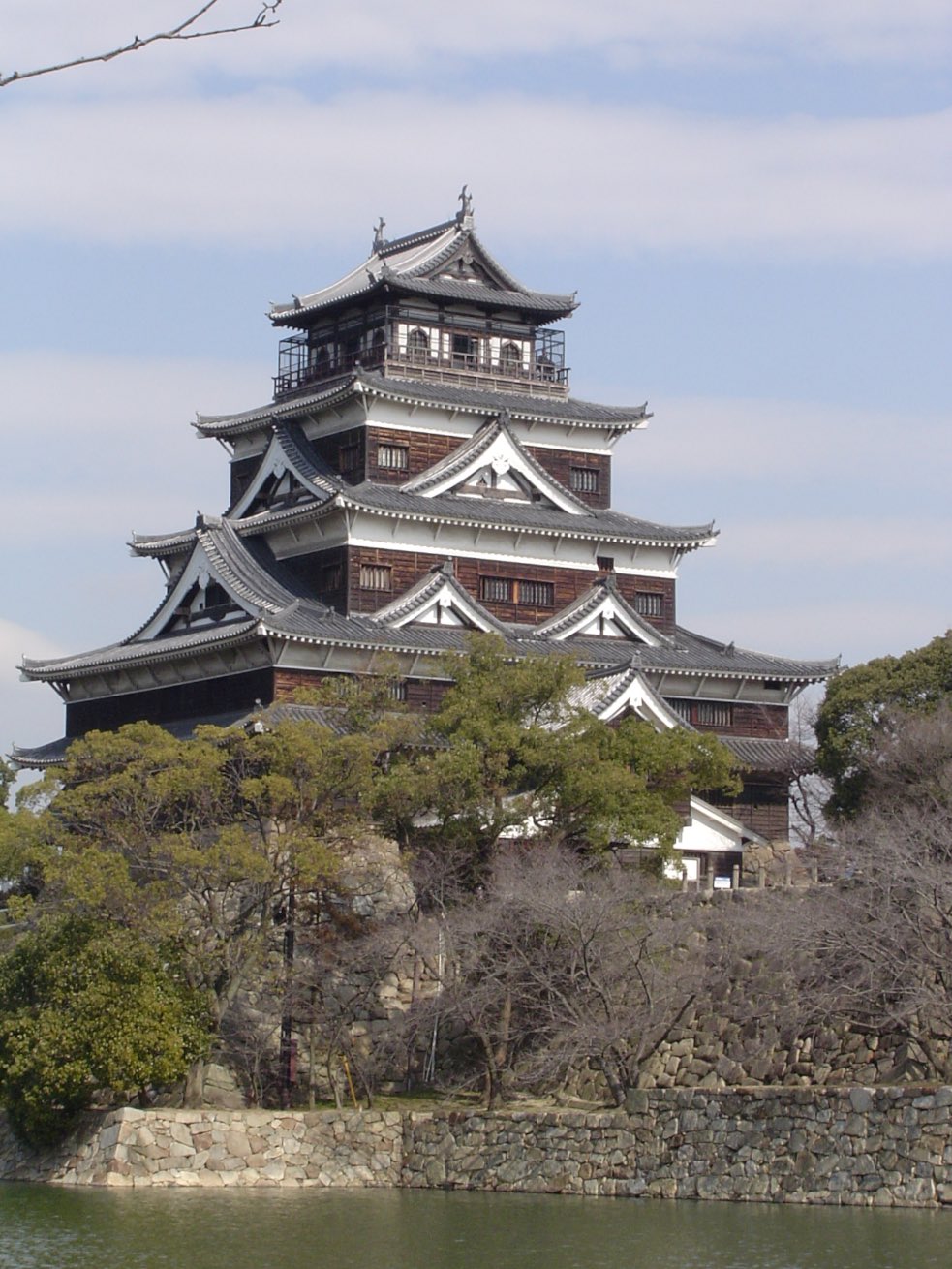 Matthew Bystedt
History
Once the Mori family secured possession of 9 provinces of ancient Japan in western Honshu, Terumoto Mori built Hiroshima Castle in 1589 on the Ota River delta in the center of their lands. This flatland castle was the largest in western Japan at the time. There were three concentric moats built around it for protection. The area at the fork of the Ota River was called Koi-no-ura (Carp Inlet) so the castle was nicknamed "Carp Castle" or Rijo in Japanese.
The Mori family did not rule for long from the castle. They and their allies lost the battle at Sekigahara (1600) in Shimonoseki, Yamaguchi Prefecture, and they lost all of their lands except those in Yamaguchi Prefecture.
Reaching its Twilight Years
The castle passed to a number of different rulers and the inner keep survived until the Meiji period. The inner keep was named a national treasure in 1931. Over time, associated buildings and fortifications were lost. For example, of the three moats, only the innermost remains.
The inner keep was destroyed as a result of the detonation of the atomic bomb above Hiroshima in 1945. A military base occupied its grounds at the time. Treasure or not, the base was considered a military target and its destruction a goal. Just 1 km away, the assumption was that the keep blew apart simply from the blast. New research points to it collapsing under its own weight due to the blast causing structural damage to the lower support pillars. In any case, like most of the city, it lay in ruins.
Restoration
As a symbol of the city, the decision to rebuild was likely an easy one. Its completion would show the city on a upswing, restore part of the soul of the city and act as an anchor to bring tourists. Accordingly, the inner keep was rebuilt in 1958. The outer facade is a close approximation of the original, but it is built using concrete. Artifacts that survived are displayed in the museum inside the keep.
Getting There
Hiroshima Castle is north of downtown Hiroshima. The route from JR Hiroshima Station is well marked with signposts in English and Japanese. There is no parking for cars at the castle. The castle is close to the Shukkeien Gardens.
See also: Himeji Castle and Hiroshima's History
Posted: April 5, 2011 Updated: February 21, 2015
All rights reserved © 1999-2015 Matthew Bystedt