Odaiba (お台場) is one of the most popular destinations in Tokyo for Japanese people. Besides its shopping and other attractions, Odaiba's wide open spaces and location in Tokyo Bay also makes it one of the most scenic and relaxing recreation areas in Tokyo.
The series of six islands called Odaiba were built at the end of the Edo period (1603-1868) as marine fortifications to protect Tokyo from attacks by water. The largest (3rd and 6th) have been expanded into the Odiaba waterfront section of Tokyo. The name (or sometimes simply "Daiba") literally means fort and has stuck despite an effort to re-brand it as Tokyo Teleport Town.
In the 1980s, an ambitious attempt to expand and turn the land into a futuristic business district failed when the bubble economy crashed. In the late 1990s, changes to the development plan allowed the empty lots to be snatched up by commercial and entertainment businesses and it has quickly turned into one of Tokyo's most impressive districts.
Full Screen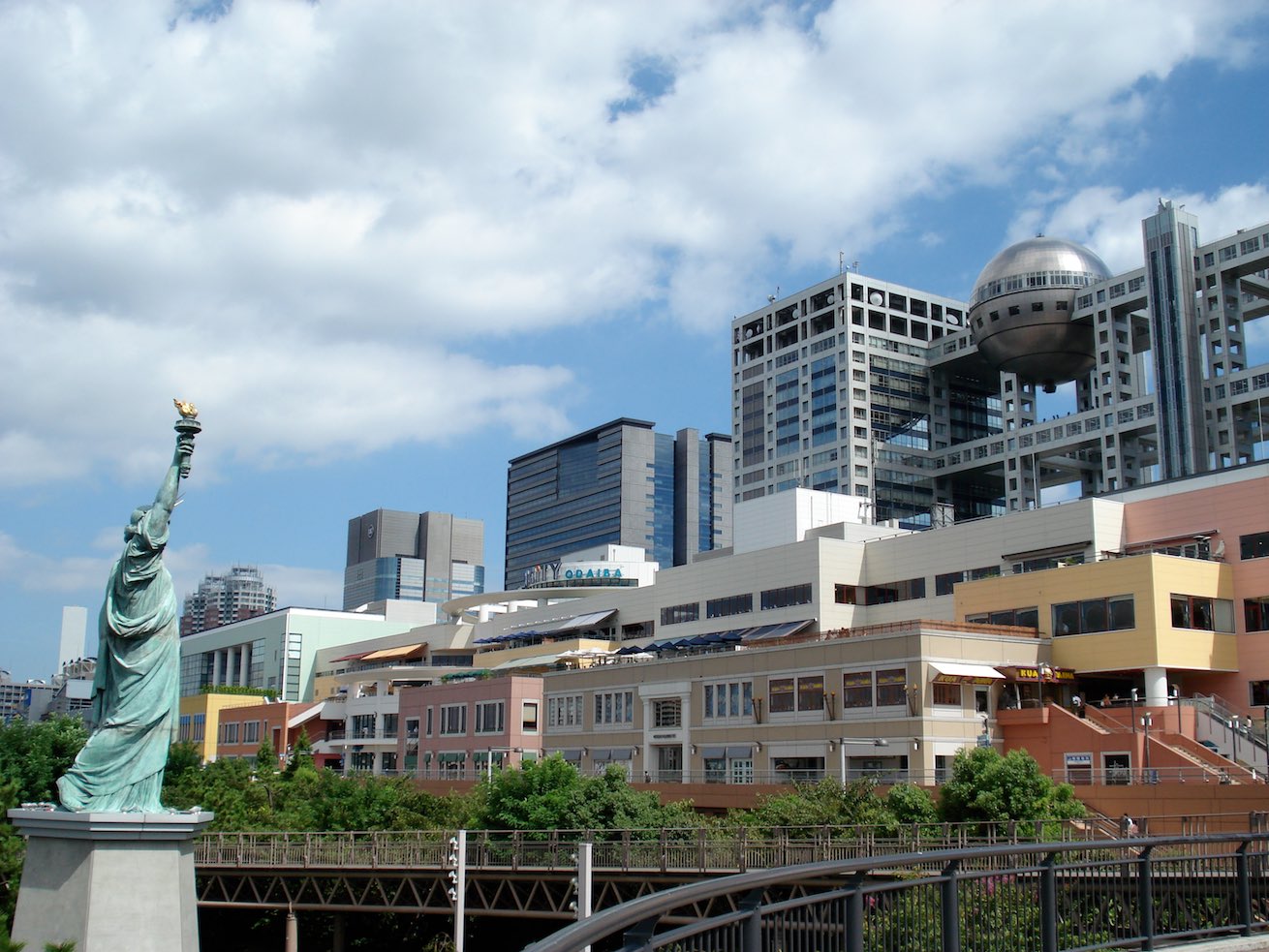 Matthew Bystedt
Yurikamome stop numbers are shown in green below.
Attractions
U-07
Aqua City Odaiba
Aqua City Odaiba is a smaller smaller than Decks which located east of it. Its main draw is the movie multiplex and the large number of restaurants on the 5th and 6th floors with nice views of Tokyo Bay.
External Link: Aqua City (English)
Cinema Mediage
The Cinema Mediage in Aqua City is the largest multiplex theatre in the heart of Tokyo with 13 screens. The biggest screen seats 3,034.
U-07
Decks Tokyo Beach
Decks is one of two malls facing Tokyo along the water in front of the Fuji TV building.
External Link: Decks (Japanese)
Little Hong Kong
If you don't have time to head to Yokohama then visit Little Hong Kong on the 6th and 7th floors of Decks. The floor's shops are heavily decorated to evoke the feeling of being in a crowded Hong Kong market. There are a number of Chinese restaurants here.
Sega Joypolis
Sega Joypolis is an amusement center with a number of high tech rides. The entrance is on the 3rd floor and it is spread over three floors of Decks. Admission is 800 yen (attractions separate) or a one day passport costs 3,900 yen (2,900 yen after 17:00). There is a 1,000 yen discount for admission for childern 7 to 14.
U-07
Fuji TV
The Fuji TV building is one of the most striking (eccentric) in the Tokyo skyline. The 2,200 ton and 32 meters diameter observation dome was built on the building below and lifted into place on April 17th 1995. Tickets to the observation deck cost 550 yen. Open 10:00 to 18:00 and closed every Monday (or day after holiday Monday).
The Studio Promenade on the 5th floor showcases Fuji TV's characters. There is also the gift shop, cafe and other attractions.
U-09
Oedo Onsen Monogatari
The Edo period is revived at this onsen (hot spring) next to the Telecom Center. The source of the water is an actual hot spring 1,400 meters below ground. It is a higher end spa and costs 1,980 yen to enter during the day with discounts later at night. It is actually only closed from 9:00 to 11:00, but some of the special baths close at 22:00.
U-10
Palette Town
Palette Town is large mall complex to the south of Tokyo Teleport Station with a variety of different attractions located around it.
Ferris Wheel
The 115 meter tall ferris wheel (called the "Giant Sky Wheel") at Palette Town is one of many places to view the landscape of Tokyo Bay from Odaiba.
Mega Web
Mega Web is a car theme park showcasing Toyota's products. There is a showroom and car museum. If that doesn't appeal then take a test drive or ride on the automatic EV Commuter. Kids can also drive a small hybrid vehicle inside the building.
Venus Fort
Step into Venus Fort to discover one this striking venice-themed mall. Marble fountains, statues and impressive Italian facade adorn one of the few themed malls in Japan. With a few exceptions, the mall's boutique shops, cafes and restaurants are mainly aimed at women.
U-12
Panasonic Center
Panasonic showcases their vision of the future at a the Panasonic Center in Odaiba. The two exhibits about ubiquitous networks and designing for the environment are split onto two floors. Entry is free. The Panasonic Center is open from 10:00 to 6:00. Closed Mondays and during the New Year holidays.
External Link: Panasonic Center (English)
U-11
Tokyo Big Sight
Tokyo Big Sight is the largest exhibit oriented convention center in Japan. The conference tower with its reversed pyramids is one of the most striking buildings in Tokyo. It is also known as the Tokyo International Exhibition Center.
External Link: Tokyo Big Sight (English)
Tourism
U-06
Odaiba Kaihin Park
Odaiba Seaside Park is along the north side of the coast in front of Decks and Aqua City. It is one of two popular sandy beaches in Tokyo. The other is at Kasai-rinkai Park. If you walk along the ocean to the east you will come to a section of the original Daiba which is now covered in grass and cyprus trees. From here, you can have a clear view of Rainbow Bridge and the Tokyo skyline.
U-08
Museum of Maritime Science
The Museum of Maritime Science (Fune-no-Kagakukan) on Odaiba is itself shaped like a boat. Two boats are tied up next to the museum and can be toured. Ticket prices vary from 600 yen to 1,000 yen for adults depending on which combination of attractions you want to see. Closed every Monday or the day after a holiday Monday.
External Link: Museum of Maritime Science (English)
U-08/U-09
National Museum of Emerging Science and Innovation
The Miraikan (future building) is a highly recommended bilingual science museum dedicated to the cutting edge technologies that will change our lives in the future. Exhibits include robots, the genome and more. Admission is 620 yen for adults and 210 yen for 18 and under. Free on Saturdays. Closed every Tuesday.
External Link: Miraikan (English)
Rainbow Bridge
Rainbow Bridge connects Odaiba with the heart of Tokyo. It was completed in 1993. Three separate transportation links use this bridge. It is possible to walk across the bridge on foot, but, most people take the Yurikamome.
U-07
Statue of Liberty
A replica Statue of Liberty graces the board walk in front of Aqua City. It is probably the most famous photo spot on Odaiba. Interestingly, it is not a copy of the American one.
In celebration of Japan-France ties, the original statue (first installed in 1889 in Paris) was briefly moved here in April, 1998 and returned January, 1999. Even before it was returned, people were organizing to have a copy installed in its place. The orginal foundary created this replica and it was installed on December 22, 2000.
Full Screen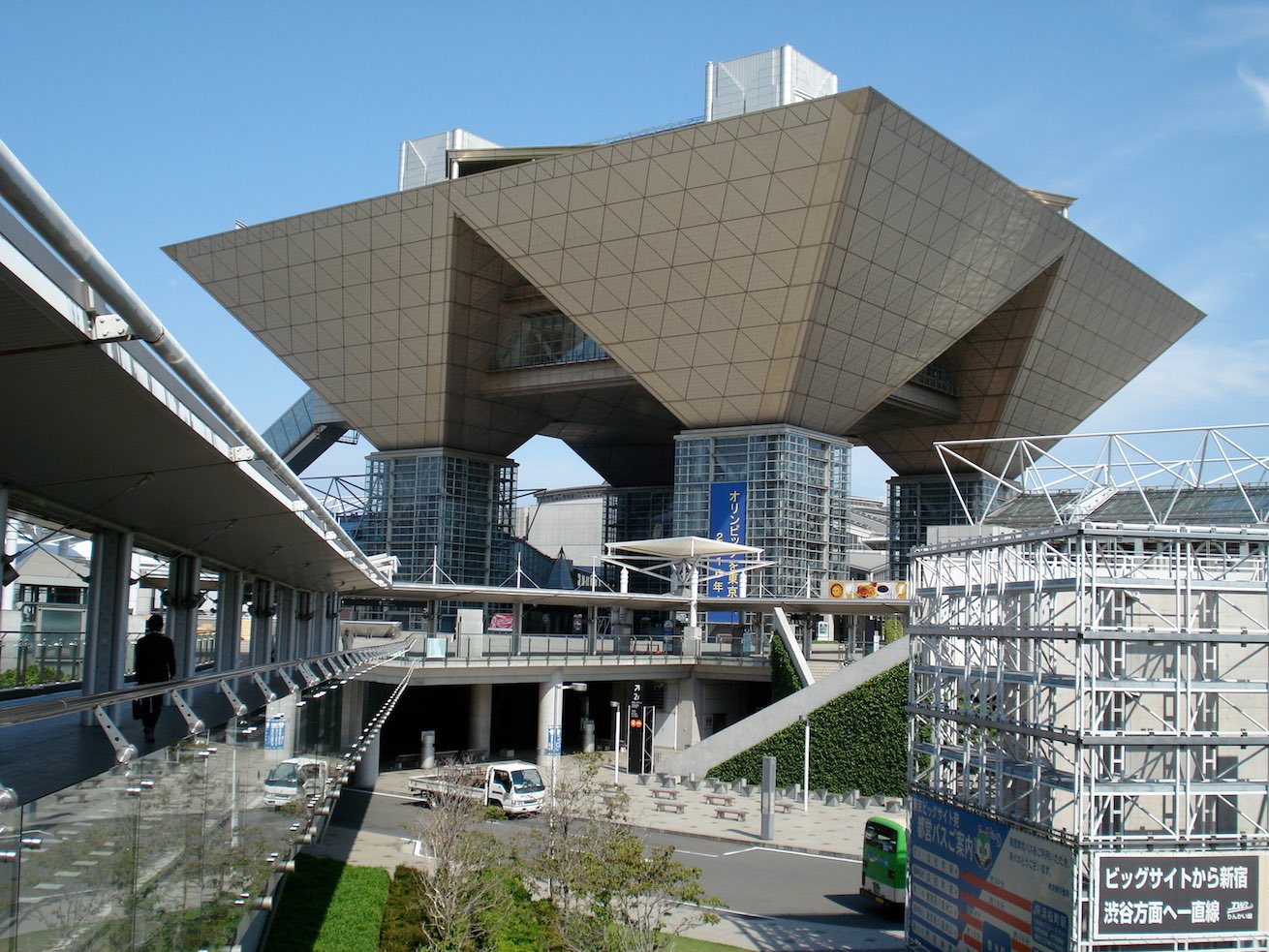 Matthew Bystedt
Getting There
Getting to Odaiba can be an attraction by itself if you take the Yurikamome over the Rainbow Bridge into Odaiba. The Yurikamome Line terminates at JR Hamamatsu Station which is on the Yamanote Line and the Keihin Touhoku Line. If you plan on going to several attractions then the day pass is a very good deal at only 800 yen.
Yurikamome stops are listed in bold green in the attractions above. Kamome means seagull in Japanese.
The Tokyo Teleport Station on the Rinkai Line is in the center of the western half of Odaiba. It is at most a 10 minute walk from there to attractions on that side. This line goes east to Edogawa and west to Osaki Station which is on Yamanote Line just north of Shinagawa.
Posted: April 17, 2011 Updated: February 21, 2015
All rights reserved © 1999-2015 Matthew Bystedt